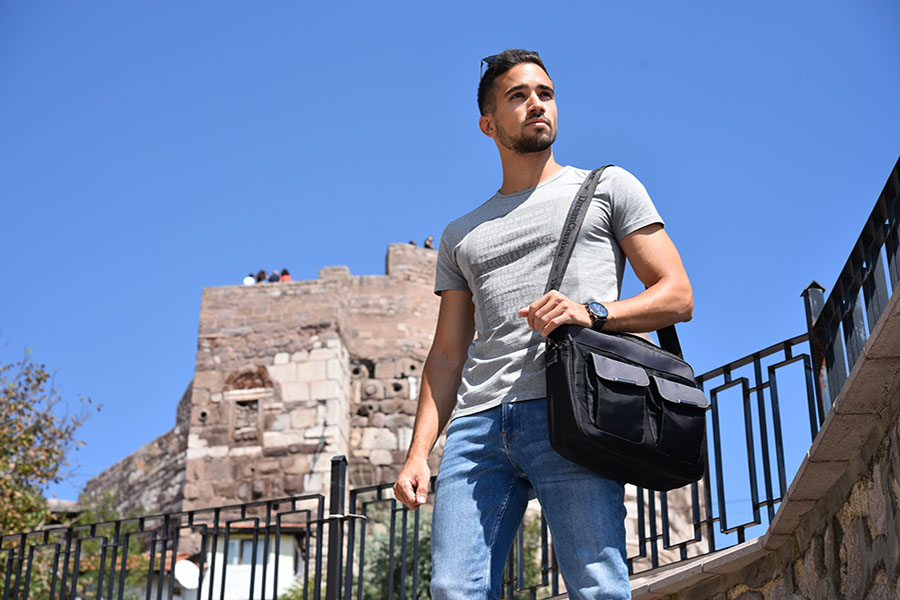 The Messenger Bag is always the best choice to carry most of what we need throughout the day. Nowadays we all need small electronic gadgets including e-readers, chargers and cables. The DreamComber Messenger Bag is ideal for this purpose. It also comes with an inside pocket to hold a bottle which can also be used to securely store your sun glasses.
Some of messenger bags have many pockets for papers and documents that we may never use, and they add extra weight and occupy quite a bit of space. The DreamComber Messenger Bag is for those who need more room for their daily needs.
Made of water-resistant nylon fabric, it is not only light weight and animal friendly but also very easy to clean. Additionally, the water resistant two way zipper makes it very easy to open and close the bag.
Magnet free front pockets are designed for those to want to ensure their credit cards or more sensitive magnetic cards such as hotel cards are not exposed to unwanted magnetic fields that can damage them. And for those who would like to securely keep their cards, a metal locking closure is included on these pockets.
Sometimes we need an easily accessible pocket to store small items for any reason. The DreamComber Messenger Bag comes with a large sized pocket with a magnetic closure in front so you can quickly drop your items. In the back there is also another large pocket suitable to hold letter/A4 sized papers ideal for those situations when we need an easy to reach space to keep our documents.
Especially designed for those who prefer to have their own style or like to change how they carry their bags depending on different situations, the DreamComber Messenger Bag comes with handles and a shoulder strap which can all be detached.
Light weight material and water-resistant two-way zipper.
Durable materials used throughout with a simple design that can go with any outfit.
Grey color lining that brightens up the inside so one can easily find those small items.
Comes with its own stylish black box that makes this bag an ideal gift.